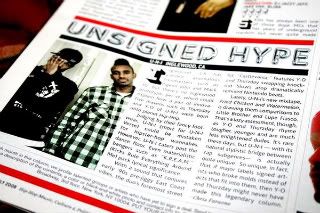 Thurzday
THE INGLEWOOD NATIVE HAS BEEN THE BEST KEPT SECRET AND IT'S ABOUT TIME THAT THE HIP HOP WORLD EMBRACES HIM. GROWING UP THURZDAY (BORN YANNICK KOFFI) FELL IN LOVE WITH MUSIC PLAYED BY HIS ELDERS THAT CONSISTED OF HIP HOP, REGGAE AND SOUL. THE CONSTANT PLAY OF REGGAE MUSIC IN HIS BELIZEAN HOME HELPED HIM TO HAVE A DIVERSE APPRECIATION FOR MUSIC. HE TOYED WITH THE IDEA OF BEING AN EMCEE UNTIL HE LEARNED HOW TO WRITE MATERIAL IN SONG FORMAT. AFTER RECORDING HIS FIRST COUPLE OF SONGS ON A KARAOKE MACHINE, THE HUNGER TO SUCCEED AS AN ARTIST KEPT GROWING.
Y-o
THE VIBRANT MOHAWKED EMCEE FROM SEATTLE, WASHINGTON IS LIKE NO OTHER INDIVIDUAL IN THE HIP HOP GAME. THIS ECLECTIC SOUL HAS NO LIMITATIONS TO HIS SKILL AND ABILITY AS AN EMCEE. BORN YONAS SEMERE MICHEAL (YONAS MEANING "SOLDIER"), Y-O CONTAINS A RELENTLESS DRIVE TO EXPLORE ARTISTIC REGION FAR BEYOND THE COMFORT ZONE. BREAKING DOWN ALL SORTS OF BARRIERS, HE CONTINUES TO MAINTAIN AN EDGE AND STREET CREDIBILITY THAT RESONATES WITH THE PURIST, SUBURBIA AND THE STREETS, ALL IN ONE.
RAPPING SINCE JUNIOR HIGH SCHOOL, Y-O BEGAN TO TAKE HIS CRAFT SERIOUSLY AFTER HE PACKED HIS BAGS AND MOVED TO INGLEWOOD, CALIFORNIA IN 1996, WHERE HE HOPED TO GAIN AN EDGE IN THE MUSIC GAME. INSPIRED BY SUCH ARTISTS SUCH AS KRS-ONE, RAKIM, TUPAC, J DILLA, BIGGIE, DR DRE, MOS DEF, AND COMMON TO NAME A FEW, Y-O CONTINUED TO FOLLOW HIS LOVE FOR HIP HOP.
Check out U-N-I here