Ok so I'm sitting in sculpture & it is too cold to go outside & work so me I'm surfing the web & listening to these nerds in here playing Halo on their laptop. So I came up.. well not came up but I thought of another addition to the blog. Vick & I want to interact with our readers more. I'm tired of doing all the talking so I am giving all of you out there a chance to do something besides comment (which some of you dont do anyways) It will give you a purpose ya know? Ok so you will email a picture of how you wore something. (our emails are located at the bottom) You have to describe your outfit by telling us what brands that you're wearing in the photo from head to toe.(see example at the bottom of this post) & then there will be a miscellaneous question that follows. For example, "how could you have improved your outfit?" or "what's the most important piece of your outfit?". You will also include your name, age, & location. It doesnt have to be your real name. Here are the rules, NO self taken pictures. Meaning no holding the camera in the air & snappin & NO MIRROR PICTURES. NO EFFECTS! you are not the only ugly person out there. & I think that's it You have to be fresh.. no half stepping. This will give us a chance to figure out what our audience looks like & eventually will help us expand our range of posts. All of that equals a higher quality blog. I will be posting one of these every Monday. So please submit your weekend picture. & The question is what is the most important part of your outfit :)
My email is richdatdude@aol.com
spread the word & please participate!
Thanks peeps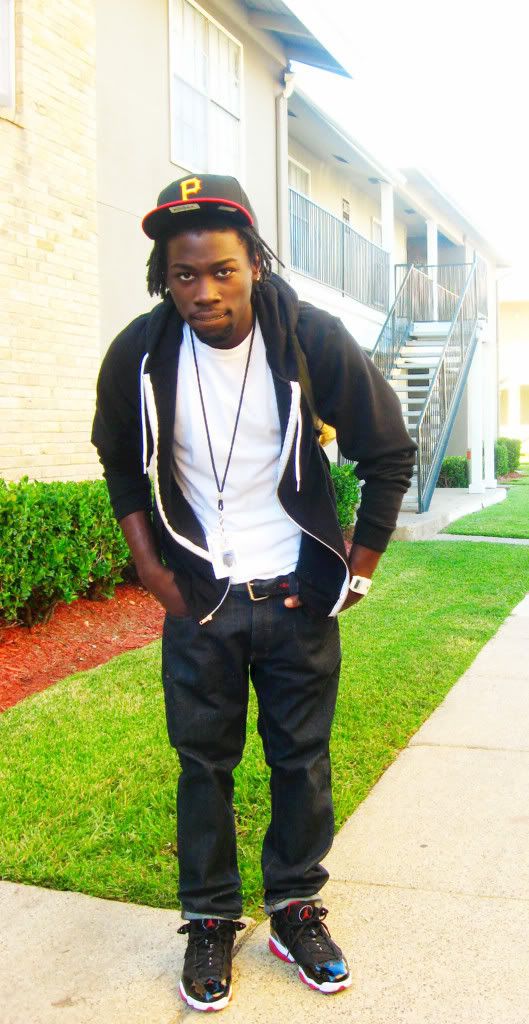 Name: Rich
Location: Dallas
Age: 17
What are you wearing?
Pirates New Era
American Apparel hoodie
Hanes tee
Levi Jeans
Jordan 6 rings
What's the most important part of your outfit?
I would have to say my shoes. The 6rings are just killa!
see that's easy
of course you can spice it up by being more descriptive of your outfit.