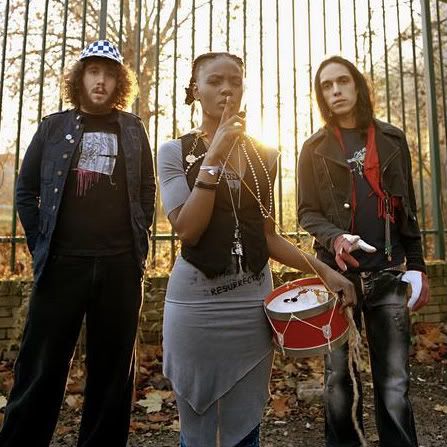 College exam week is a really stressful time, trust me. To cope with all those late night studying hours I watched DirectTv all night long, and I saw this band on the 101 channel that has all the new shit on at weird hours of the night...
p.s. this is my first Got Next so feel free to critique =]

The Noisettes have toured Europe and the United States extensively, with the likes of TV on the Radio, Tom Vek, Babyshambles, Bloc Party and the Mystery Jets. They supported Muse on a UK and European arena tour in November and December 2006, and toured the UK to promote the release of their debut album What's the Time Mr. Wolf? in February 2007. The Noisettes also appeared at the Coachella festival in 2007 and performed at the Reading and Leeds Festivals in August. The Noisettes also made their US television debut on The Late Late Show with Craig Ferguson in April 2007. Shingai Shoniwa, the lead singer has provided backing vocals for many bands including Guillemots songs "Made Up Love Song #43" and "Over the Stairs". The Noisettes song, "Scratch Your Name" was featured on the finale episode of The Sopranos in 2007.
Find out more about them at their
Myspace Page